The shelter management template is a great online solution for animal shelters and animal rescue groups in need of a database system to store and manage all animal-related information from rescue/intake, foster, until rehoming.
One of the problems that animal shelters and rescue groups often face is limited resources. Since they mostly rely on donations, fundraisers, and other charities in order to operate, they usually have a tight budget to work with, yet they still manage to cover their expenses and keep their doors open for admissions. If a shelter is running on a limited budget, how can they even consider getting a database system that could improve their shelter management? and even if they do, they will most likely think of expensive and complicated software that they don't have the time to learn and don't have money to pay for.
Here's where Ragic comes in! the shelter management template is simple and easy to use. It can be downloaded and used for free if the number of records stored is less than 1000. Plus, the Ragic free plan allows you to modify up to 3 sheets in case you want to customize the template according to your shelter needs.
If you are looking for an online solution to keep your animal database organized and boost your overall shelter management, give the Ragic template a try!
Our template can help you:
- Register and track overall animal welfare including medical records while in the shelter
- Publish the list of animals ready for adoption or in need of foster care
- Receive adoption and foster care applications
- Create volunteer profiles
The Ragic template is easy to use, and you can access it from anywhere anytime:
Accessibility:
- No need to install software
- Access from anywhere using a web browser
- Mobile app for Android and iOS
Template Installation
If you have not registered for a Ragic account, you can go here and sign up for free. No credit card information is needed to create a free trial account. Testing the Ragic features is completely free!
If you already have an account, you can access the Template Library by clicking on the hamburger icon on the upper left corner and selecting Install Templates > Animal Shelter Management.
Using the Template
After installing the template, you may want to start migrating your existing data to Ragic. If you already have an animal database, you can prepare your data in Excel files and import to the respective sheets.
The shelter management template includes 5 sheets: Animals, Foster Care, Animal Surrender, Adoptions, and Volunteers.
Let's go over each sheet structure!
Animals Sheet
The Animals sheet allows you to create profiles with the general information of each furry member of your shelter. The ID field will automatically generate a unique number for every new profile added to the sheet. If every dog is microchipped before being added to the database and you want to use the microchip number as the identifier, you can modify this sheet and change the field type accordingly.
The fields Species and Breed are connected, so the breed options will depend on the species you select. The current species set are dog and cat, if your shelter has other species, you can modify these fields by adding the additional species and breeds, or you can use a free text field to manually type any species.
In the second part of the form, you'll see a subtable that you can use to register the medical history of each animal such as vaccines, surgeries, microchipping, etc.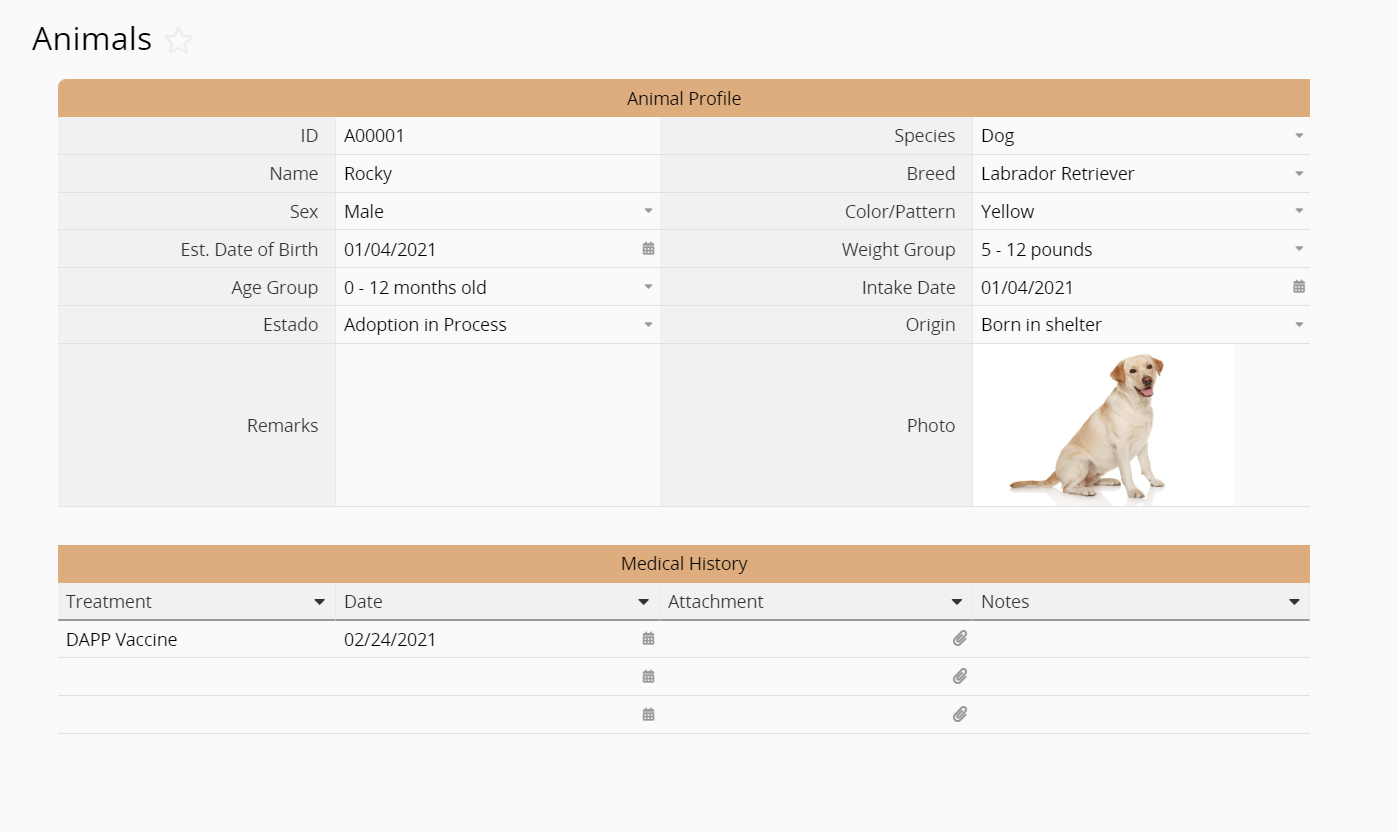 To learn more about modifying Ragic templates you can see this link.
Foster Care Sheet
There are situations in which foster care plays a very important role in the well-being of sheltered animals, for example, while the animals receive medical treatment, recovery, and rehabilitation from surgery or simply to allow the animal to experience a family environment outside the shelter. You can have the potential foster carers fill out the form in this sheet to apply.
The first section requires the foster carer's details, as well as some general household information.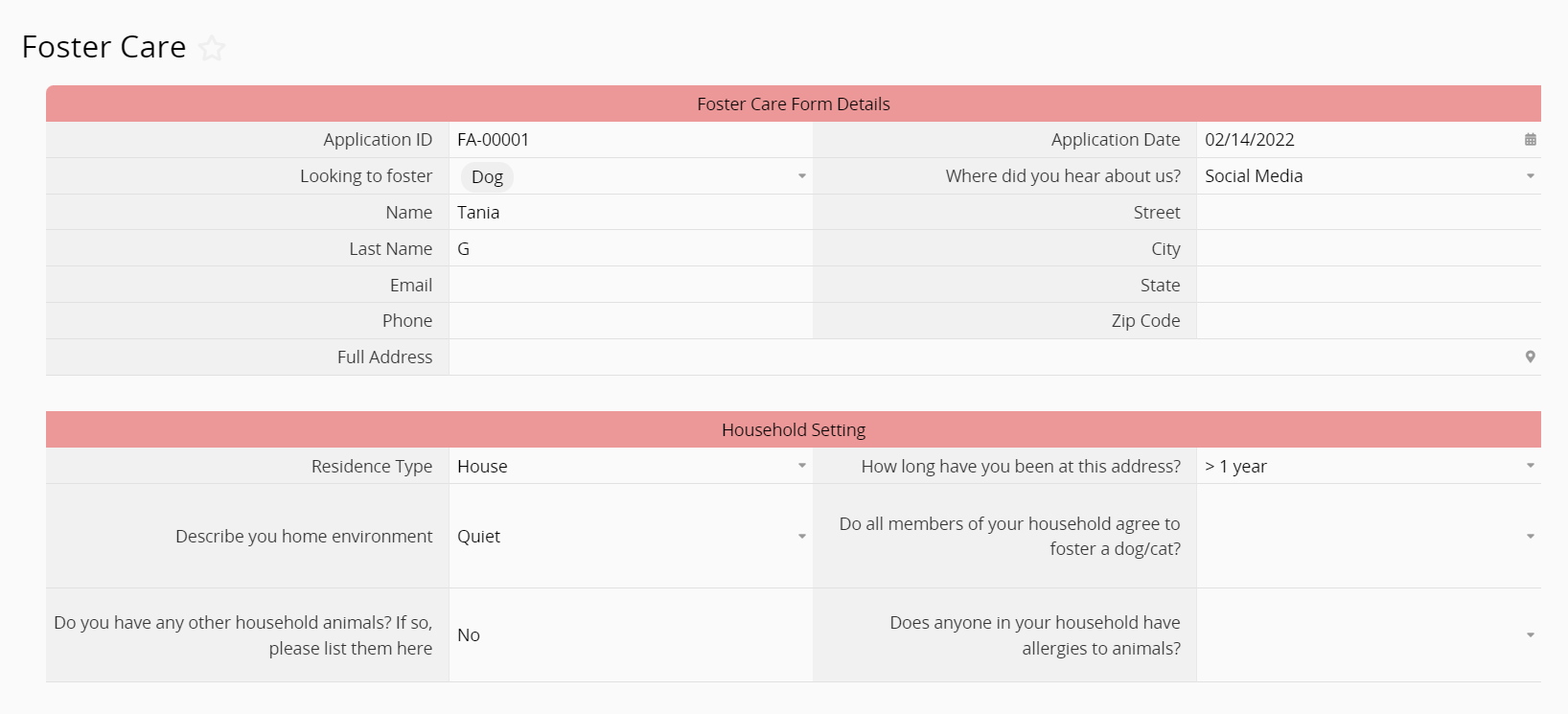 In the second part of the form, the user can add some preferences, regarding the type of foster they'd like to take in as well as the foster period. After saving, the form will be submitted for approval.
After approving the application, you can click on Foster ID to see the list of animals with the status "In need of foster care" and you can assign the animal and the foster period dates.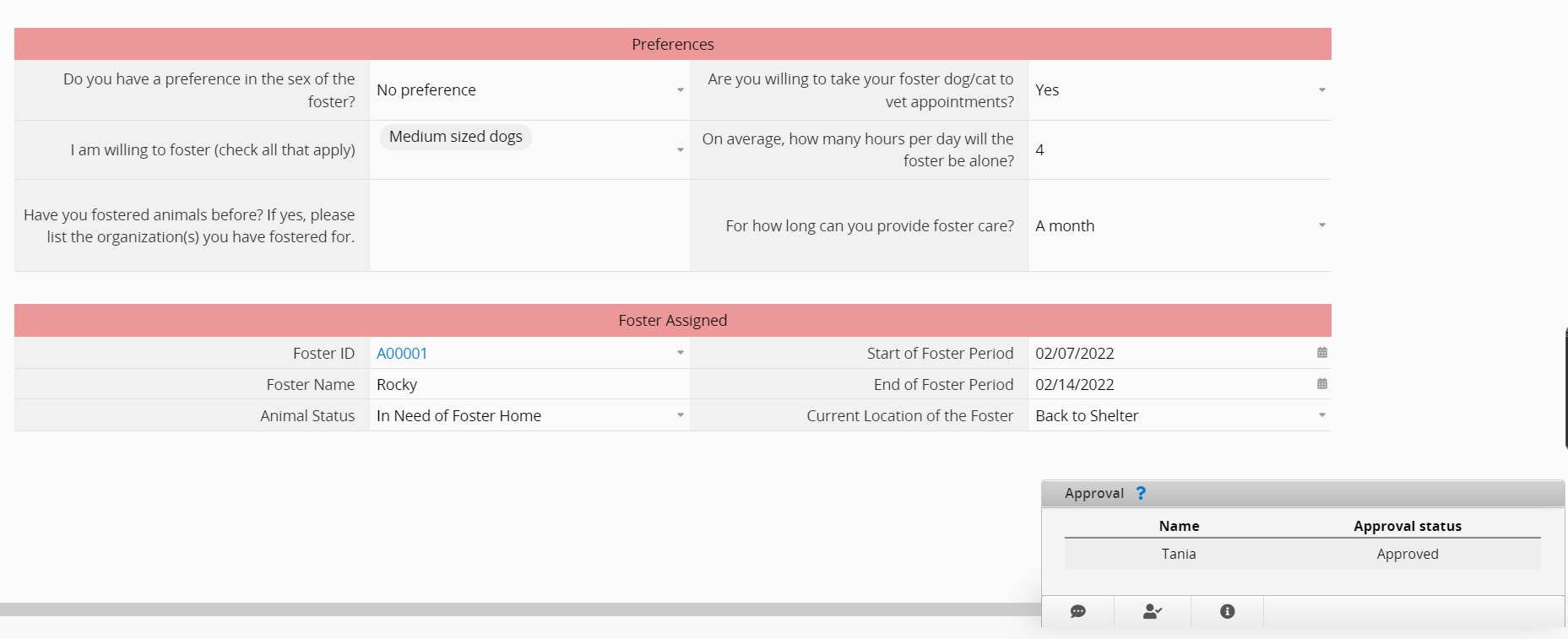 There are two ways of creating a foster care application:
1. From the Animals sheet. If the animal has the status: In Need of Foster Care, you can click the button Create Foster Care application from the animal's profile.
2. Directly from the Foster Care sheet.
Animal Surrender Sheet
Sadly, sometimes owners cannot keep their beloved pets due to a variety of reasons and need to surrender the pet hoping that it will be rehomed with a new loving family.
You will likely request the owner's general information as well as the animal's.
If you have a paper declaration form that might require the owner's signature, you can upload the scanned version in the Declaration field.
After filling out the form and completing your internal intake process, you can click on Create Animal action button on the lower right corner to add the new animal's profile to the Animals sheet.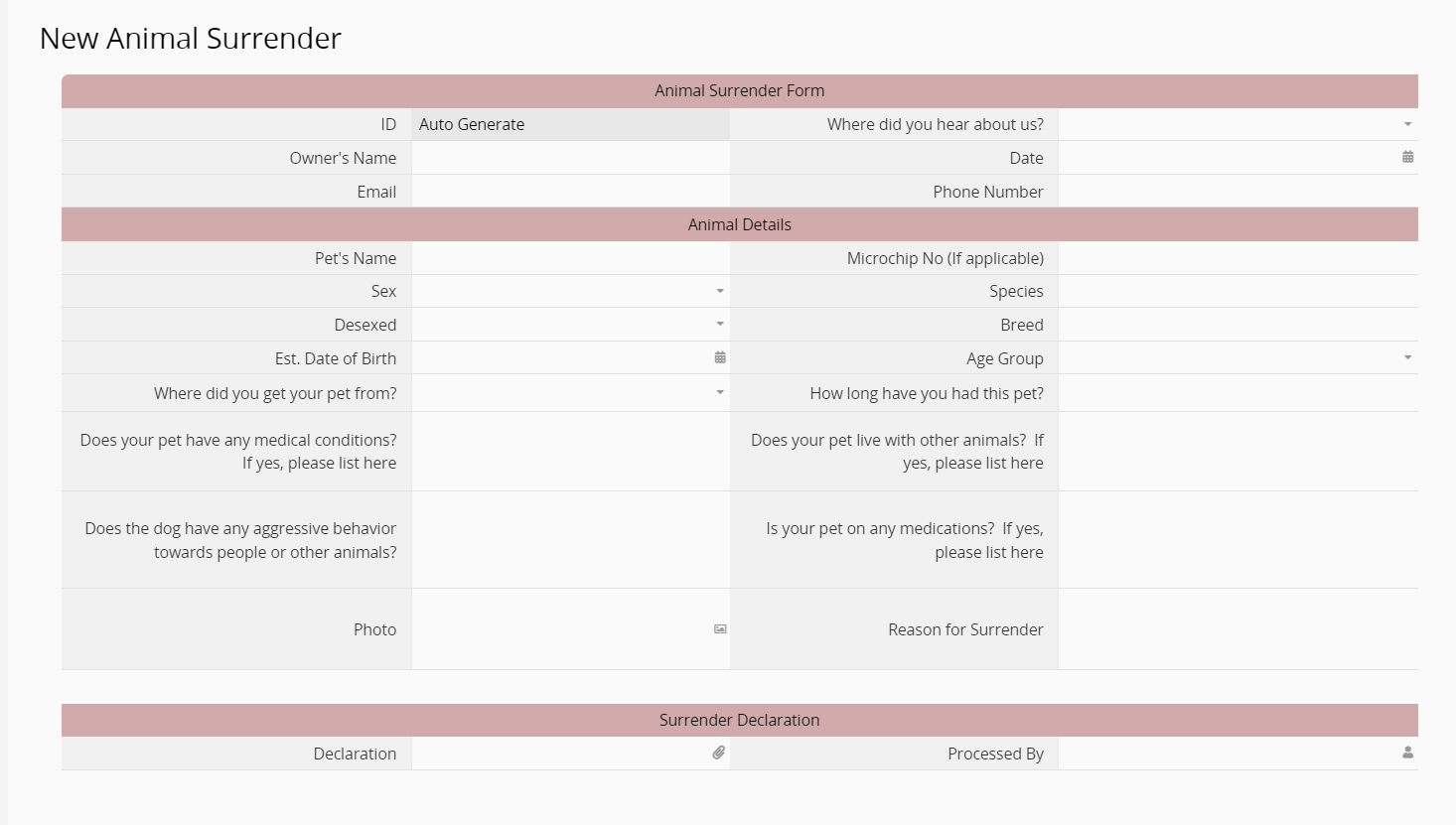 Adoptions
Anyone interested in adopting a dog or cat from your shelter can fill out the form on this sheet. The first section requires the adoptive parent's contact information, as well as some general household setting details.
After the application is approved, you can fill out the Adoptee Assigned section.

There are two ways of creating an adoption application:
1. From the Animals sheet. If the animal has the status: Ready for Adoption, you can click the button Create Adoption application from the animal's profile.
2. Directly from the Adoptions sheet
.
Volunteers sheet
Shelters often have helping hands who provide support on different activities, whether these are done as one-time or regularly, you can use this sheet to create a profile for anyone who volunteers at your shelter.
The template includes a basic form that can help you store the volunteers' contact information. You can always modify your template and add more fields to suit your needs.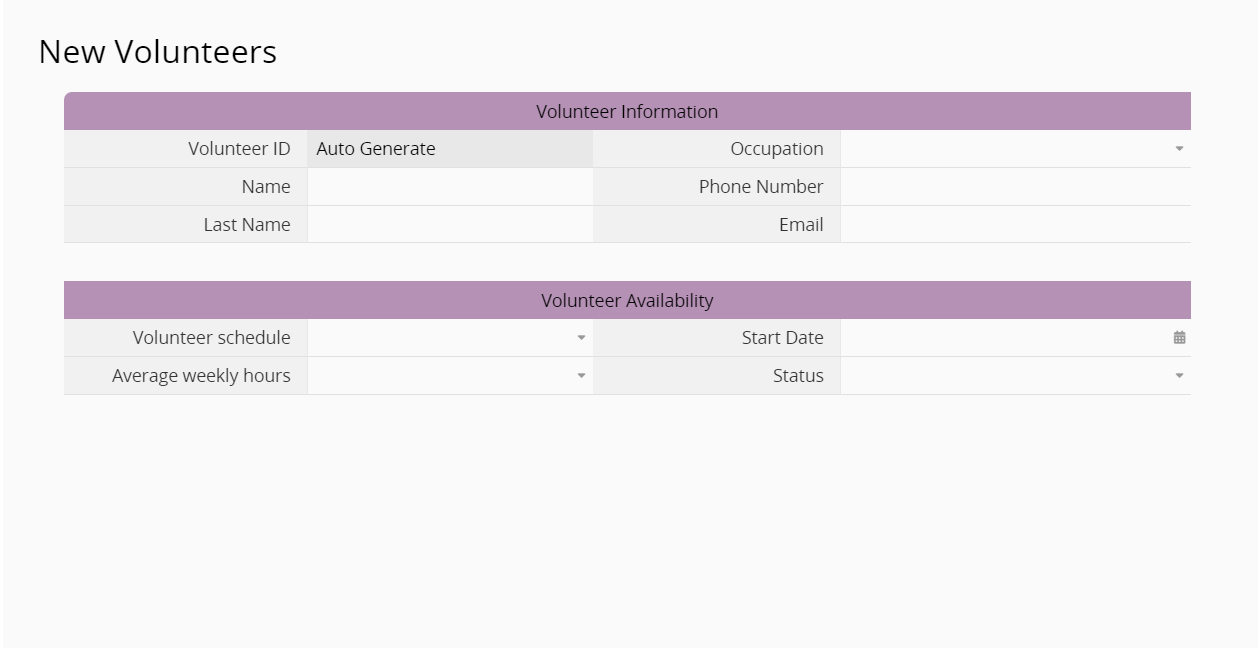 Reporting Tools
Ragic reports allow you to create different reports using your data. For example, if you would like to see adoption trends and check how many animals have been successfully rehomed over the past six months, you can go to your Adoptions sheet and generate a Line Graph by analyzing your records by Completion Date and Month.
If you would like to see how many animals in the shelter are ready for adoption, in need of foster care, or have been successfully adopted, you can try creating a Pivot Table Report.
Template Customizations
Using microchip number as animal ID
In the Animals sheet, go to the Design Mode and change ID field to numeric or free text type if your local microchip number is alphanumeric. After making this change, the system will no longer create a sequential ID for every new entry, and you will need to input the number manually in this field.
Receiving foster care and adoption applications from the public
If you would like to receive applications from anyone on the internet, you just need to change the access rights of the corresponding sheets. Before doing so, you may consider creating multiple versions and deleting the Adoptee or Foster assigned section from the public version of the sheets since this part will most likely be filled out by shelter staff.
Enhance your shelter management with the Non-profit template
If you need a system to track your donations, register your fundraising events and administrate your volunteer programs and other activities in your shelter, you can download the Ragic Non-profit template.
You can download and use the template completely free as long as you keep the number of records below 1000. If you are using the free plan you can modify up to 3 template sheets. Find out more about our pricing plans.
Have any questions? Contact us at support@ragic.com!
Category: Applications, Templates